Here's a wrestling history post.
In the summer of 1996, Scott Hall, Kevin Nash, and Hollywood Hogan (the nWo) started a "hostile takeover" of WCW in which they were acting asWWF employees infiltrating WCW and taking it over. In the progression of the storyline, at the September pay-per-view, Fall Brawl, the nWo was set to take on WCW's top names in a four on four battle inside of two rings enclosed in a steel cage with no way out other than the doors. The match started with two men and, every few minutes, a member of the opposite team entered. WCW elected, Ric Flair, Lex Luger, Arn Anderson, and Sting to be their heroes. The nWo had Scott Hall, Kevin Nash, Hogan, and an unnamed partner, in classic nWo fashion.
In the weeks building up to the match, the nWo played an angle where they had their own Sting parading around attacking WCW people, leading WCW to not trust the real sting.
The Fall Brawl match was booked perfectly. It started with Scott Hall facing Arn Anderson in the cage. Kevin Nash then entered, followed by Lex Luger. Hogan entered and then Flair; it was time for the next nWo member to arrive. It turns out their fourth man was their Sting, who looked comparable to the real Sting so it was believable. WCW was let down until it was their next member's turn to enter. So the real Stinger ran down and saved the day. He then told the people who didn't trust him to "Stick it" and left.
Being 4-on-3, the nWo dominated WCW. The match ended with "Sting" putting Lex Luger in the scorpion death lock while Hogan wrenched his neck: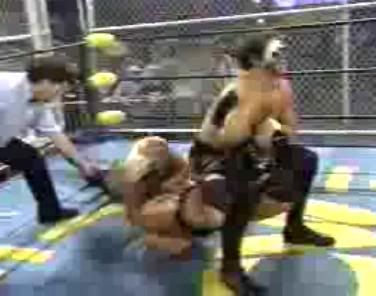 (If anyone can tell me why Hogan wrenching his neck was necessary, I'll be your best friend).
After the referee called the match in favor of the nWo, the cage lifted and Luger CRAWLED backstage yelling, "STINGER!!!!"
It was quite a scene and one of my favorite  WCW moments ever.